Just a quick post for you today.
Since I totally forgot that Easter was this coming Sunday I though I'd share with you an Easter layout I created using some of the elements from the Easter kit that I created. I knew Easter was late this year and it was in the back of my mind that things needed to get done but with everything going on at the moment, it totally slipped my mind until Tuesday of this week when I received a message from a coworker about what hours I wanted to work. (Thanks Diane!) I hadn't even gone shopping for Jacobs Easter basket. I'm a bad Easter bunny this year.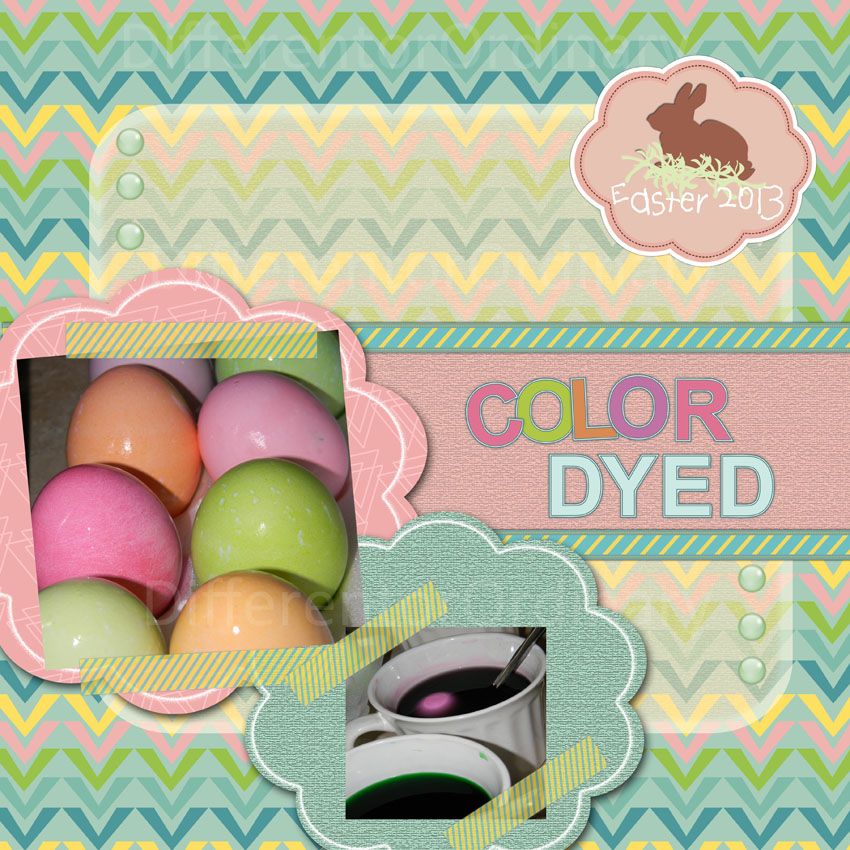 I honestly never though that I'd get in to digital scrapbooking. I know I probably shouldn't admit that since I do create digital scrapbook stuff now. :) But I really am beginning to love it. I still love regular scrapbooking, but I will be adding more digital layouts to my albums from now on. The things I love about it are:
you can use your supplies as many times as you like
you can alter your supplies with the click of a mouse to match exactly to your design
it's more forgiving and if you make a mistake you can just 'ctrl+z'.
the possibilities are endless
I think the only con I have with digital scrapbooking is it doesn't have the same feel/texture as regular scrapbooking. That won't stop me though. I like the variety. Digital scrapbooking reminds me so much of my Advertising Design class I took when I was going to school, which actually was my favorite class. Scrapbooking as whole, not just digital scrapbooking reminds me a lot of the graphic design classes I took. That's probably why I love it so much.
How about you? If you scrapbook, do you like both or do you lean more towards traditional or digital?
ps. If you're interested in this kit you can find it in my store. You can go there by clicking the link above in the tool bar or
click here