Hey there! I hope you all made it through Monday. If you didn't…well…my sympathies to you. I hope you have much better days ahead of you.
:)
If you've been a follower of this blog for a while, you'll notice that my header has changed.
I didn't even intend on changing it, I just opened the file for the heck of it and started playing around until I came up with a simple design I liked. What do you think? Also, I'm working on a Facebook fan page. If you look slightly to the right, at the top, there is a link for you to click on an follow if you'd like.
Since work has been the theme of some of my previous posts I figured I'd share a layout with you that I made a while ago.. I don't think I've shared this layout with you guys yet. If I did, sorry! I've added something to it though. The inspiration for this came from a question I saw posted…probably on Pinterest….I feel like I live there some days. It's so addicting!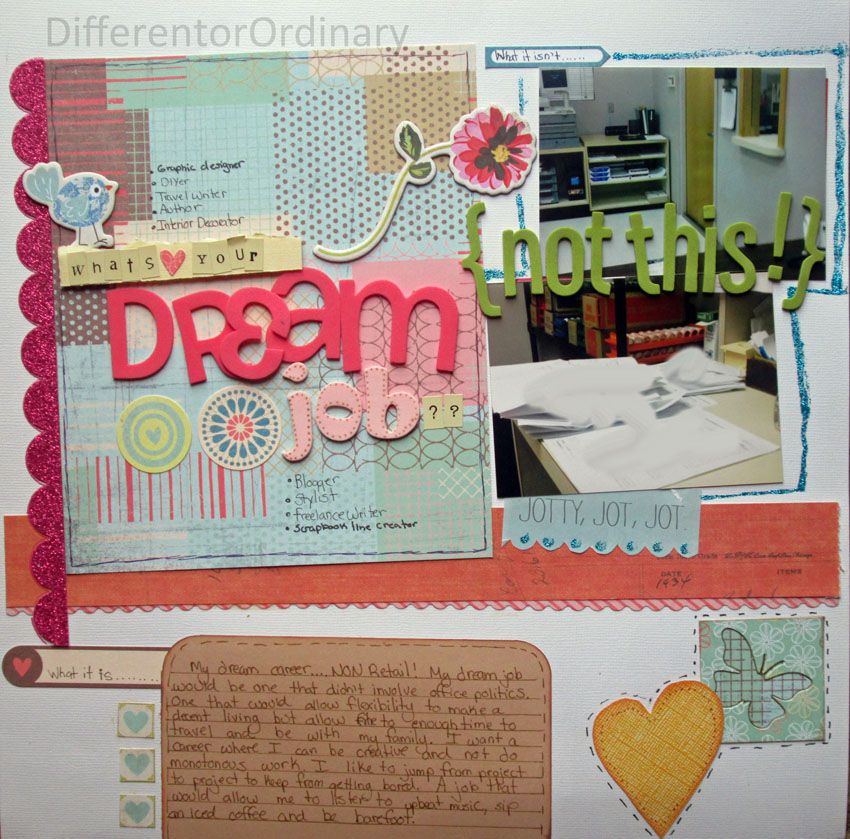 'What is your dream job?' was the question I wanted to document.
Hmmmm…Mine is certainly not what I'm doing now. If you scroll down a bit you can read what mine is.
Here is a close up of the title. One of the things I find when I'm scrapbooking is I use a lot of colors and patterns. For some reason mixing patterns is easier for me than mixing plain cardstock. To make the pink foam letters pop, I used a fine tip marker to make a dotted border.
Of course I had to add a photo or two of work. Of course though, I had to do something to emphasize that they were not any indication of my dream job. I think I achieved it.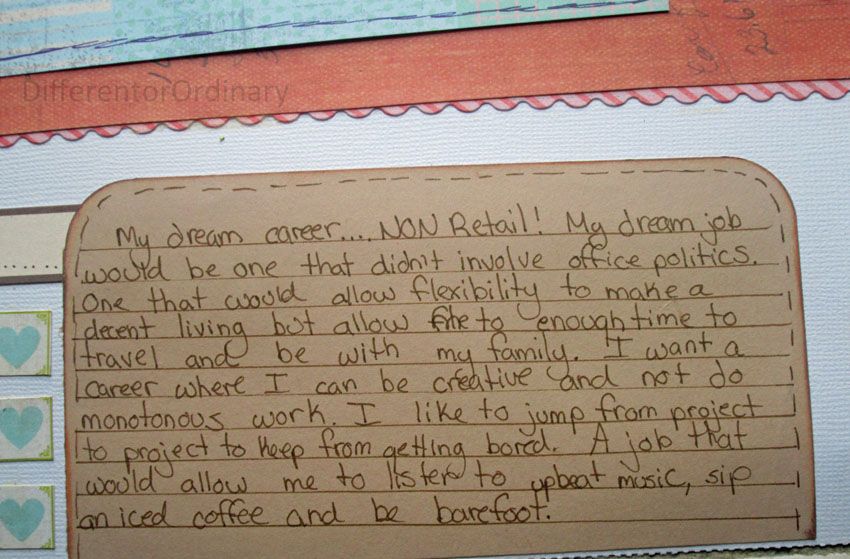 On the bottom I added a blurb about what my dream job would entail.
Do you have a dream job?