Good Wednesday morning to you! This weekend is going by at a much faster pace than last week. Last week dragged. Maybe because it was April vacation - who knows. I'm just glad it is going by at a very normal pace rather than at a snails pace.
I know I've mentioned it before in a few posts but I feel like since turning 30 (and a bit before), I've finally started to come in to my own and figuring myself and everything out. I don't know why it took me so long. I figured once you reach adulthood everything is supposed to fall in to place. If it happened for you, then that is awesome. For me, Nope. My 20's weren't bad, it was just a confusing time filled with LOTS of life lessons and experiences. My life has been a little crazy up until this point and I finally feel content. I don't feel as confused as I did before. This whole revelation inspired a layout.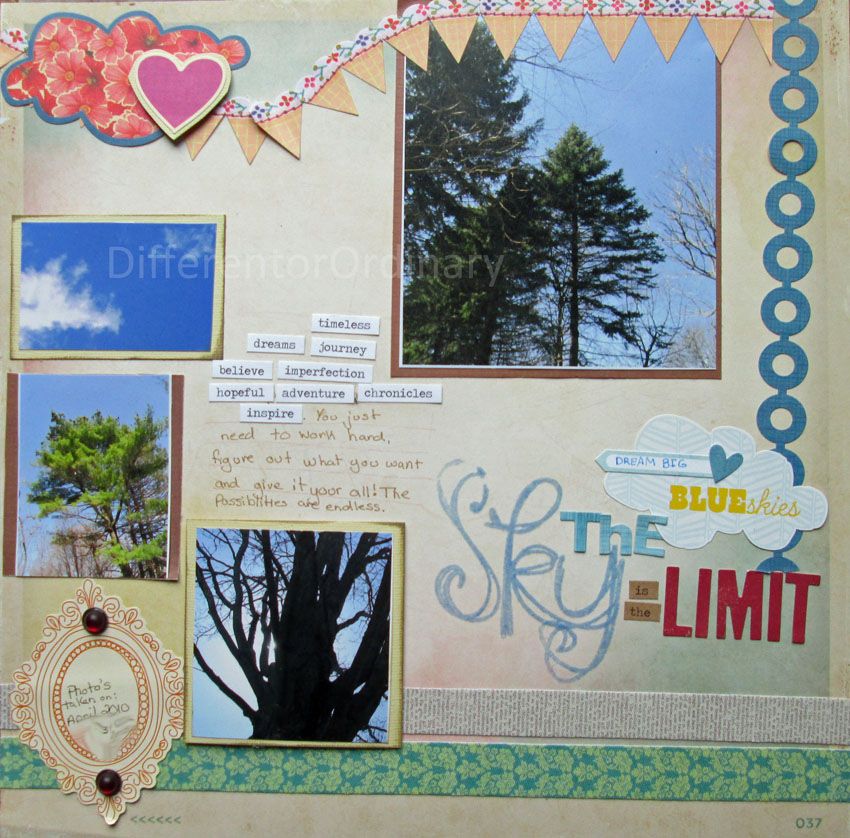 I took these photos a while ago. I love taking photos in general whether they come out good or not. I like capturing the natural beauty that surrounds us. Even when I take pictures of my family and friends, I don't really enjoy posed photos. I like capturing things in the moment. I feel like there is more of a story to tell.
We scrapbookers love story telling, don't we? I wasn't sure what I was going to do with these photos of the sky and trees until recently when this layout popped in to my head.
I'm a journaler…is that even a word? LOL. I love to write and I love to tell a story. Most of the time, I run out of room but for this layout I kept it short and sweet to get the point across.
For the title, I wanted to do something a little different and use one of my supplies that I NEVER use. Flock. I bought a bunch of Flock when it was on clearance at Michaels, but I had never used it because I wasn't sure how to. When I created this layout threw caution to the wind :) and just went with it. I thought it was going to be messing and hard to use, but it wasn't. All I did, was stamp the letters with glue instead of ink, then I poured the entire jar of flock over it, pressed it down a little bit, then carefully funneled the loose back into the jar. There were a few strays but a dry paintbrush took care of that, after the glue had dried.
Well I hope this layout inspired you to either create one of your own or not be fearful to do what you want. Dream big!